Jetta University | Bathtub Education for Jetta Partners
ABOUT JETTA UNIVERSITY
JettaU allows you to arm yourself with the knowledge you need to share Jetta's unique value with your customers.
There are many benefits to enrolling in Jetta University:
Learn at your own pace

Earn valuable certifications

Expand your product and industry knowledge base
---
Here's a Preview!  You can view this New Products Course now even before you Enroll!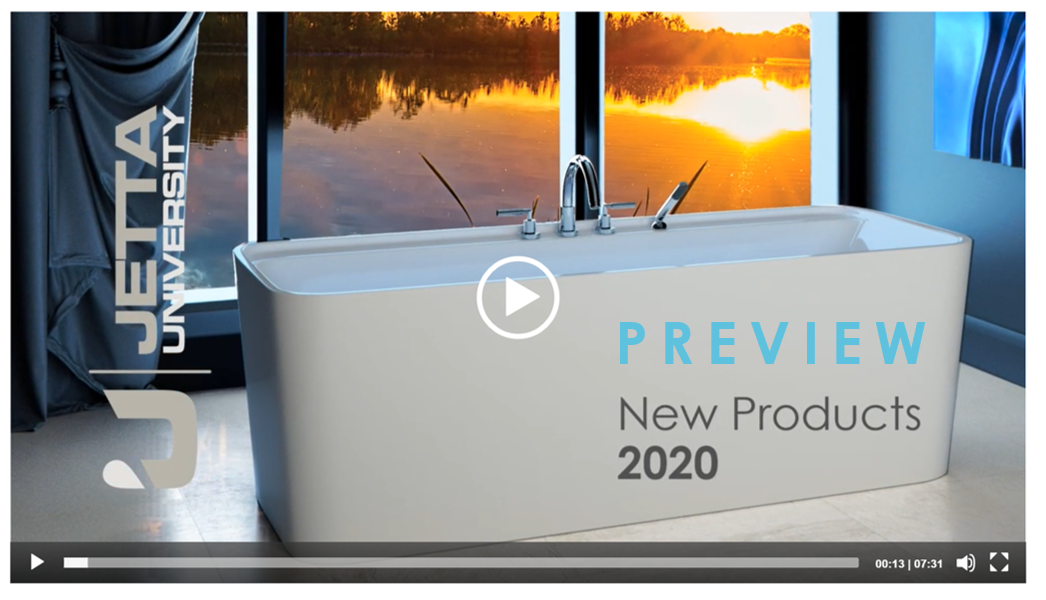 Each course features a combination of video and presentation style information. You'll find periodic questions or surveys and will conclude with a brief test to see how well you recall what you learned.
 

---

Ready to Enroll?

Jetta University is only available to wholesale partners.  To enroll, simply log into your portal.  Choose the "Access Jetta University Option" from your portal.
Who can enroll in Jetta University?
Any Jetta partner may enroll in Jetta University.  This includes staff members at our showroom, distribution partners, sales and service staff, and marketing and purchasing partners. JettaU is also available to builders, plumbers, designers, and other qualified wholesale partners. 
Ready to enroll?   Log into your wholesale portal to enroll today!
---
What's the difference between Jetta University and my Partner Portal?


| | | |
| --- | --- | --- |
| Jetta University is elearning education only available to wholesale partners to support distributors, plumbers and  staff to learn the basics of bathtubs, installation styles, the Jetta brand, and what Jetta has to offer.  To enroll you must log into your partner portal and choose the "Access Jetta University" to enroll. Your Jetta University Login credentials are NOT the same as your Partner Portal.   |   | Jetta's secure website portal is your secure access to your order history, confidential pricing and marketing support documents.  Your Partner portal is separate from your eLearning credentials at Jetta Unviersity because your security is very important to us.  eLearning is hosted through a third party technology platform. Your partner portal requires a Jetta team member to verify your identity and qualify you for access to your partner tools. |
---
ABOUT JETTA
For almost 40 years, the Jetta name has quietly built a reputation for quality and reliability among professional builders and plumbers. From the beginning, we've been focused on maintaining quality manufacturing and world-class service. Thanks to that commitment, we back our products with guarantees and claims others can't. Jetta University is our go-to tool to educate our partners about Jetta and our commitment to quality products and service. 
---
THERE'S NO SUBSTITUTE FOR GREAT RELATIONSHIPS
We value personal relationships above all else. Our interactions go beyond just a transaction; we strive to connect with each and every partner on a personal basis. At the end of the day, we're here to help you succeed. Whether that's providing you with a great bathtub, solving a problem, or working through a challenge together, we are dedicated to your success. We enjoy hosting our partners at our home location, but we are not always able to do so. Thus, we have created the JettaU eLearning experience to help bridge the gap and ensure a learning experience that is on-par with an in-person visit. Enjoy!
---
A PRODUCT IS ONLY AS GREAT AS THE SERVICE BEHIND IT
When you order a Jetta product, you can be assured it will be delivered on time and that the service won't end with the sale. Builders and plumbers nationwide trust Jetta because we make bath systems without compromise and back them up with confidence. We can't wait to share more with you about Jetta products, services, and people in our JettaU eLearning program!