You Don't Need to See Life in Black and White
Make A Stylish Statement with new Color Bathtub and Basin Options.
Beautiful colors and smooth luxurious finishes will give your bathroom a look of elegance and bring out the true beauty of your home. DADOquartz has a specialized technique used for lasting brilliance of the color finishes ensure high resistance to cleaning agents and corrosion.
The design identity of contemporary bathrooms demands high-end quality, style, beauty and a timeless aesthetic. Modern bathtubs are one of the key investment pieces to achieve this brief. DADOquartz baths bring form and function together with elegance to transform your space to one of pure luxury.
9 Persuasive Reasons why DADOquartz is worth the investment.
1.  Exceptional Strength.  
DADOquartz is engineered and tested in accordance with stringent technical criteria making them exceptionally strong.  As a variety of silica, quartz ore is crushed and combined with resin and other natural materials to create our exclusive material, DADOquartz. The strength of a is further enhanced by the fact that DADOquartz is full-bodied and is a solid structure product made of the same material through and through leaving no room for veins or fissures that could compromise its strength.
2.  Clean and Hygienic.  
DADOquartz is a non-porous material making it resistant to micro-organisms and bacterial growth, giving you sustained peace of mind. The smooth satin surface of DADO baths and basins is remarkably easy to clean, a significant advantage for our modern and busy lifestyles
3.  Attention To Detail.  
Luxury cannot be mass-produced. All DADOquartz modern bathtubs are individually finished by hand, achieving a smooth and refined look that is elegant and sophisticated. Extra care and our commitment to finer detail go into each individual DADOquartz product.
4.  Easy Installation.
DADOquartz baths are designed with a plumber's space underneath each tub, ensuring that no holes have to be drilled into the floor on installation.
5.  Warm To the Touch.  
Not only is DADOquartz material warm to the touch, but the bathtubs also have a natural high insulation capacity allowing the tub to heat up quickly and the water to remain at the desired temperature for longer. This practical 'green' environmental and energy-saving features make it a winning material in our opinion. Relaxation and saving the earth come together in perfect bathing harmony.
6.  Perfectly Crafted.  
DADOquartz is a void-free structure and is free from hairline cracks and is resistant to scratches, stains and abrasions. The material is also UV resistant, meaning that no discoloration will take place over time.
7.  Natural Beauty.  
The natural beauty and satin finish of DADOquartz stone is its ultimate benefit – no outside layer or gel coat is sprayed onto the material. This natural matte stone appearance and satin finish are strikingly beautiful and for a little extra glamour, the range is also available in a gloss finish or an array of COLORS for a modern and luxurious look for no added charge!
8.   Quality Assurance.  
Every DADOquartz bathtub and basin is backed by a lifetime warranty.
9.  Worldwide Sensation.
DADOquartz freestanding baths have made their debut in 5-star hotels, resorts, lodges, and residential golf estates across the globe.  
In South Africa you can find DADOquartz freestanding bathtubs in exclusive resorts and golf estates that beautifully showcase these freestanding baths and basins. The Eye of Africa Signature Golf Estate, south of Johannesburg, features freestanding baths and matching basins.
Holland has always been an exciting European hub for inventive designers and smart design solutions. The inclusion of DADOquartz in the innovative Blue Hotel in Nijmegen aligns with the lifestyle philosophy of the Blue Hotel – 'The place for those who feel at home everywhere.'
Bienvenido! The Spanish are maestros when it comes to the art of relaxation and enjoying life to the fullest. Discover a DADOquartz bathtub as a focal point at the Ama Andalucia Hotel in Spain – celebrating the perfect spot for a Spanish siesta and pure bathing pleasure.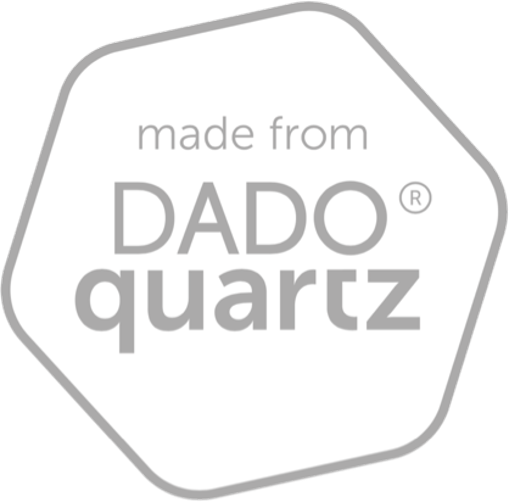 Style meets quality with DADOquartz, manufactured in South Africa from unique DADOquartz material. From the earth of southern Africa quartz ore is mined, crushed and combined with a mixture of resins and other natural minerals to create this exclusive material. DADOquartz freestanding baths and basins are 100% solid throughout. No added layers, coatings or finishes. All products are individually finished.